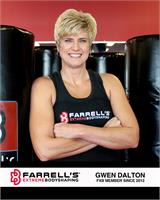 Gwen Dalton
My FXB journey started in January 2012. After years of struggling to find a well-rounded program and workout that kept me motivated, I had let myself go and was lacking self-confidence.
FXB has truly been the key to transformation for me mentally, physically, and emotionally. You get far more than just a great workout and nutrition guidance with Farrells, you also become part of a family. It is that sense of family and support that sets FXB apart from any other fitness program I have ever tried.
No matter your age, fitness level, or athletic ability, we come together for the same reason and that is to get healthier. There is endless support and motivation at any level, whether you are just starting or have been doing it for years.