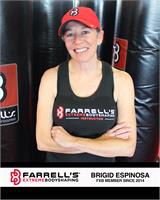 Brigid Espinosa
I started Farrell's in August 2012 at the encouragement of two friends. At first I said no, I like to run and running is free, but my friends were persistent; and honestly, seeing what great shape they were in led me to consider joining. I was hooked immediately. I was challenged and determined to improve my core strength. I had always said running is efficient; 30 or 45 minutes most days and you are done. Thats what I loved about Farrell's, 45 minutes and you are finished! You don't have to think; the instructor tells you what to do. I also appreciated the nutrition education that goes along with the exercise. I had no idea how many carbohydrates I was eating.
At the end of my 10 weeks I was not able to complete all 48 full sit-ups or twists in a set, but I was doing most of them and determined to get there. There was no question I would stay on as a Fit Member. I had made so many great friends in such a short time.
I began instructing in November 2014 because I am passionate about the cardio/strength/nutrition of this program. I believe in the program. I want everyone to succeed and always do their personal best, and I hope that is evident when I am on the mic.